Usah Tradisikan "April Fool"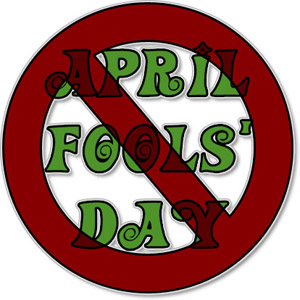 "Aku tau susah kau nak terima, tapi aku kene ngaku jugak. Aku dan husband kau.. kami dah lama ada hubungan. 3 4 bulan, and aku rasa dia pun tunggu mase je nak cerai dengan kau"
Tina merasakan darahnya menyirap.. Mukanya merah padam. Nafasnya tersekat-sekat. Kata-kata Julia terasa menikam-tikam rusuk. Dalam percaya tak percaya.. dia bungkam. tapi rasa nak cekik dan bunuh saja Julia..
Seketika Tina melihat Julia tersenyum-senyum. Selang hanya lima enam saat.. Julia berdekah-dekah ketawa.. "Hahahaha.... Kahkahkahakah... Hikhikhik...APRIL FOOL!!!!!!!!!! Jangan marah ye"
"Bengong!" Ujar Tina dalam hati. Nak marah tak boleh, sbb itu memang adat "APRIL FOOL". Sape suruh dia lupa hari ni 1 April.
----------
Ini antara sekian banyak cerita yg paling tak senonoh timbul bila tibanya tarikh 1 April. Entah dari mana asal usul "Event" tak beretika ni pun saya tak pasti. Walaubagaimanapun di sini saya "Copy & Paste" dari Wikipedia tentang asal usul April Fool". Betul atau tidak.. Allahua'lam.
Origins of April Fool
A ticket to "Washing the Lions" in London from 1857. This traditional April Fools prank is first recorded in 1698.In Chaucer's Canterbury Tales (1392). the "Nun's Priest's Tale" is set Syn March bigan thritty dayes and two.
[3] Modern scholars believe that there is a copying error in the extant manuscripts and that Chaucer actually wrote, Syn March was gon.[4] Thus the passage originally meant 32 days after March, i.e. May 2,[5] the anniversary of the engagement of King Richard II of England to Anne of Bohemia, which took place in 1381. However, readers apparently misunderstood this line to mean "32nd of March," i.e. 1st April.[6] In Chaucer's tale, the vain cock Chauntecleer is tricked by a fox.

In 1509, a French poet referred to a poisson d'avril (April fool, literally "April fish"), a possible reference to the holiday.[5] In 1539, Flemish poet Eduard de Dene wrote of a nobleman who sent his servants on foolish errands on the 1st of April.[5] In 1686, John Aubrey referred to the holiday as "Fooles holy day", the first British reference.[5] On 1st April, 1698, several people were tricked into going to the Tower of London to "see the Lions washed".[5] The name "April Fools" echoes that of the Feast of Fools, a Medieval holiday held on the 28th December.[7]

In the Middle Ages, New Year's Day was celebrated on the 25th of March in most European towns.[8] In some areas of France, New Year's was a week-long holiday ending on the 1st of April.[7] So it is possible that April Fools originated because those who celebrated on the 1st of January made fun of those who celebrated on other dates.[9] The use of the 1st of January as New Year's Day was common in France by the mid-sixteenth century,[5] and this date was adopted officially in 1564 by the Edict of Roussillon.

In the eighteenth century, the festival was often posited as going back to the time of Noah. According to an English newspaper article published in 1789, the day had its origin when Noah sent his dove off too early, before the waters had receded; he did this on the first day of the Hebrew month that corresponds with April.[10]
Ini bukan budaya Melayu. Bahkan amat menyimpang dari budaya ISLAM! Penipuan yg kononnya utk bergurau menjadi halal tanggal 1 April. Mangsa April Fool pula tak boleh marah. Saya tak ada kes utk dibentangkan. Tapi saya percaya, pasti ada silaturrahim yg putus akibat April Fool. Pasti banyak hati yg terluka.
Bergurau tidak disekat dalam Islam. Tapi jika sudah berlebih lebihan, mencampuri unsur penipuan malah unsur maksiat pun dijadi bahan jenaka.. tunggulah akibatnya nanti.
Duhai manusia yang menghargai nilai-nilai kehormatan pada kebenaran, nasihati orang sekelilingmu agar MEREKA dan KITA tidak mentradisikan April Fool dalam hidup kita.
SAYA ANTI APRIL FOOL!